Hannah Horton at Jazz Cafe POSK
Rising star, saxophonist and composer Hannah Horton performed an inspired set at Jazz Café Posk as part of her 'Inside Out' UK tour. A packed and very enthusiastic audience, it was so good to see live music being supported and at what is fast becoming a well known gem of a venue in London.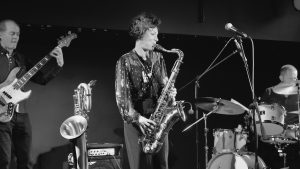 When I am reviewing, I love to listen to and watch the audiences both before, during and after performances. My opinion, is well, just my opinion, but what are the audiences expectations? Are they met? Exceeded? You really do hear some fascinating conversations. While I was waiting for the gig to begin, I could sense the excitement in the air from the audience. We often talk about artists creating 'a buzz' and I am always fascinated by what this really means. In Hannah Horton's case, on this night, it was clear. A couple behind me were chatting away about Hannah with one guy proudly stating he saw Hannah recently at the Scarborough Jazz Festival while the other said 'she is Selmer endorsed you know'. I stopped myself from interrupting them to point out, that not only is she Selmer endorsed, but she is in fact, the first UK woman to be endorsed by Selmer. I also heard them after the first set, talking to someone else in the audience who had not heard Hannah before, discussing her brilliant performance of 'Horn Dance' and how he knew she would play that track because it had also been played on 'some top radio stations' and it was not all surprising because 'well, she is good'.
Opening with her original track 'Keep Walking' Hannah immediately – and quite masterfully – set the tone for the night. This track was written about her ex, who when leaving turned around to potentially come back, which in turn inspired Hannah to write 'Keep Walking'. While explaining this story to the audience, we also hear that she lives in a cottage in the countryside (a topic that continues through the evening) and that nature has a huge influence on her writing. The way Hannah interacts with the audience is exquisite. She engages us with personal insights into her life and how this has impacted on her compositions and performance choices which is why she is often said to have a 'warm and charming personality on stage'. But it is so much more than that. She is real. She is authentic. She is an artist who draws you in, engages you, inspires you and captivates you.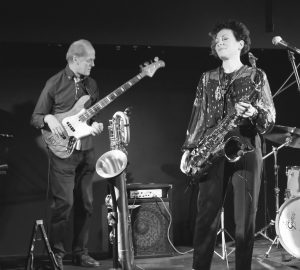 Her musicians for this evening – Tim Lapthorn (piano) Marc Cecil (drums) and Rob Statham (bass) were outstanding and the chemistry, energy and banter on stage was infectious. Tim Lapthorn's solos were at times breathtaking and his passion could not be tamed; leaping up from the keys, dripping in sweat and excitedly feeling every note he played. Outstanding. There was some drum kit drama before the gig started which was a classic example of how a serious issue behind the scenes ends up being something entertaining for the audience. But you have no doubt that whatever sort of kit Marc Cecil had to play – with or without a high hat – he would have made it work and some. There was a wonderfully warm and comforting chemistry between Hannah and her bassist of 18 years Rob Statham. But this is not a comfy slipper chemistry (although nothing wrong with spending some time with comfy slippers) this is a mutual respect and admiration type of chemistry that paves the way to space and freedom to just be… to just play – and wow, they really did. Some stunning moments between the two of them and absolute joy to watch.
As well as her superb original compositions – Keep Walking, Surfing Thermals, Escape, Horn Dance and Forget Me Not(and yes, they are all superb) – Hannah brought us some very tasteful arrangements of some Gil Evans, Chick Corea, Miles Davis, Pat Metheny (and yes, she did mention his hair and who wouldn't…) and her eye opening arrangement of 'Feed the Birds' from Mary Poppins that would tempt even the most determined of pigeon haters, to start sprinkling bird seed.
Inspired by pianist Wendy Kirkland's performance at the recent 'Sophisticated Giants' event celebrating the work of Maxine Gordon, Hannah also performed a brilliant version of the rarely performed Shirley Scott track 'Do You Know A Good Thing When You See One'. Taken from the recently re issued 'One For Me' album ( Arc Records, produced by Maxine Gordon) Hannah put her stamp on this underplayed track with a filthy groove that was a definite highlight of the night.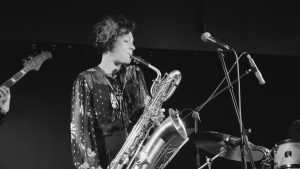 As a Selmer endorsed artist and recently returning from a trip to Paris, Hannah's new baritone 'Belle' took centre stage and my goodness what a beauty she was. Hannah's playing served her well covering the whole palette, from graceful to gutsy, intensity to simplicity and almost always a soul felt, infectious groove. She truly is a master of her instrument.
If you haven't seen Hannah Horton live, you really should.
Fiona Ross, Jazz In Europe